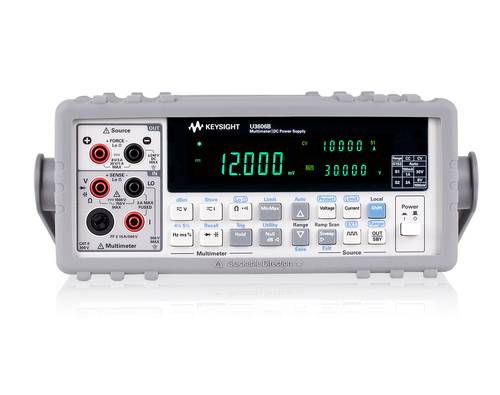 Keysight U3606B series
Keysight 5 1/2 digit multimeter and DC power supply in one instrument
Key Features
Two instruments in one box
120,000 counts resolution DMM
Dual range power supply with remote sensing
9 built-in measurements and 8 maths functions
Accuracy for DC volts is 0.025%
True rms AC measurements
Auto ramp and built-in square-wave generator
USB 2.0 and GPIB interface, SCPI compatible
Optional PC software for easy graphing with no programming
Soft start output for DC motors
Kensington lock security
The Keysight (formerly Agilent) U3606B is a 5½ digit benchtop digital multimeter and DC power supply in one unit. Operating simultaneously and independently, the instruments provide efficient, affordable testing while saving space on the bench or in a rack.
The DMM includes nine essential measurement capabilities as well as 4-wire milliohm measurement and built-in maths functions. It can measure up to 37 readings per second.
The 30W DC power supply has two range settings, to allow for a wide choice of voltage and current outputs. Overvoltage and overcurrent load protection are included, along with a built-in square wave and ramp generator.
Internal DC Power Output

Yes

Max Reading Speed

26 readings/s

Power

100 - 120V, 400Hz
100 - 240V, 50/60Hz

Operating Temperature

0 - 55 °C