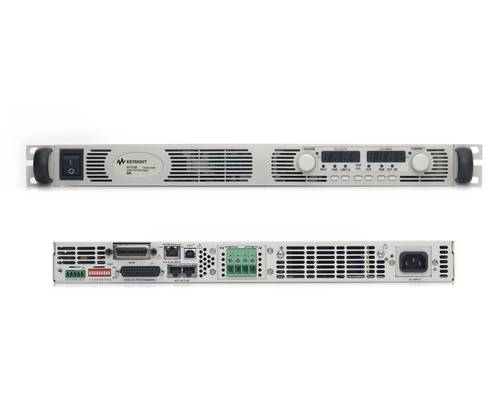 Keysight N5700 series
Keysight Single output rackmount DC power supplies, 750 to 1500W
Key Features
1U rackmount power supply
Front panel control or programmable
Up to 600V and up to 180A output
Dual digital displays for volts and amps
LAN, USB and GPIB interface
LXI class C compliant
Built-in web server
The Keysight (formerly Agilent) N5700 series test system DC power supplies consist of 24 models for simple DC power applications. They provide stable output power, built-in voltage and current measurements, and output voltage and current from 6V to 600V and 1.3A to 180A.
The N5700 provides up to 1500W in a 1U rackmount package that is fully compliant to LXI Class C specification. It comes with LAN, USB and GPIB interfaces for control and integration into test systems.
Alternatively the front panel controls allow quick and easy adjustment of output voltage and current, protection settings and power-on states.
Max Volts

0 - 20
21 - 60
61 - 150
151 - 600

Connectivity

GPIB
Ethernet
USB

Power

85 - 265Vac 47/63Hz

Operating Temperature

0 - 40 °C