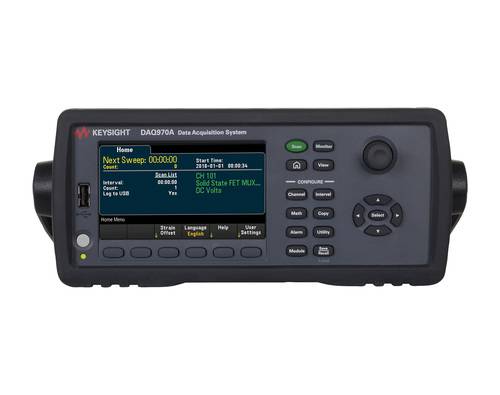 Keysight DAQ970A/DAQ973A series
Next-generation data acquisition system, 3-slot mainframe with up to 8 plug-in modules
Key Features
3-slot mainframe with USB and LAN
GPIB interface (DAQ973A only)
6 1/2-digit (22-bit) internal DMM, scanning up to 450 channels per second with new solid-state multiplexer module
8 switch and control plug-in modules to choose from
Built-in signal conditioning measures thermocouples, RTDs and thermistors, AC/DC volts and current; resistance, frequency/period, diode test and capacitance
100k readings of non-volatile memory holds data when power is removed
Hi/LO alarm limits on each channel, plus 4 TTL alarm outputs
Compare the Keysight DAQ970A/DAQ973A Data Acquisition System with other modular data acquisition systems currently available. Keysight have taken the measurement engine from the best-selling benchtop DMM and embedded it inside a 3-slot mainframe. This means that you will get the benefit of proven Keysight measurement performance, universal inputs with built-in signal conditioning, and modular flexibility, all in a low-cost, compact data acquisition package.
Whether you need to measure temperature, ac/dc volts, resistance, frequency, or current, the DAQ970A/DAQ973A can measure it. The internal auto-ranging DMM directly measures 12 different functions, eliminating the need for expensive external signal conditioning. In addition, the unique design allows complete per channel configurability for maximum flexibility.
The DAQ970A/DAQ973A comes with the added benefit of a graphical Web interface, this allows for easy configuration of measurements and monitoring of results using a standard Web browser. The built-in USB port can be used to collect data without having to be connected to a PC.
Connectivity

GPIB
Ethernet
USB

Power

100 - 120V 400Hz
100 - 240V 50/60Hz

Internal DC Power Output

No

Max Reading Speed

450 Ch/s