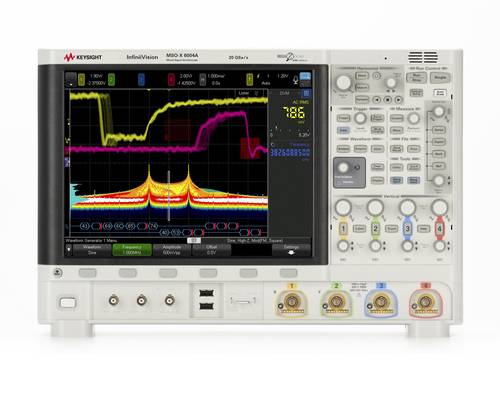 Keysight 6000 X-Series
Keysight 1 GHz - 6 GHz, DSO and MSO touch screen bench oscilloscopes
Key Features
Bandwidth starts at 1 GHz, upgradable up to 6 GHz
7-in-1 instrument
4 Mpts memory depth
Maxium sample rate of 20GSa/s
450,000 wfms/s update rate
12.1-inch capacitive colour multi-touch screen with Zone triggering
Compact form factor
View signal integrity with jitter and eye diagram analysis options
3 year warranty
The Keysight InfiniiVision 6000 X-series are upgradable digital oscilloscopes that feature a 12.1-inch capacitive touch screen display, 4 Mpts memory and update rate of up to 450,000 waveforms per second.
This series has the same capabilities as seven separate instruments in one unit including oscilloscope channels, digital channels, serial protocol analysing, dual channel WaveGen, frequency response analysing, digital voltmeter and a 10 digit counter-totaliser.
The 6000 X-series supports a wide range of optional applications to view signal integrety such as jitter and eye mask diagrams.
Aditional test licenses are available, including MIL-STD 1553 and ARINC 429, I2S, CAN/LIN, FlexRay, RS232/422/485/UART, I2C/ SPI, USB 2.0 and Manchester/NRZ.
Bandwidth

1 GHz
2.5 GHz
4 GHz
6 GHz

Zone Touch Trigger

Standard

Multi Domain Analysis

Gated FFT