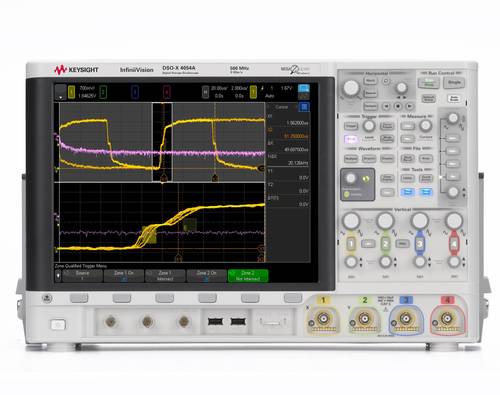 DSOX4054A - 96123992
Keysight DSOX4054A 500 MHz, 4 Channels Oscilloscope
Key Features
12.1-inch capacitive touch screen display

200 MHz - 1.5GHz bandwidth range
4 Mpts deep memory as standard
Up to 1,000,000 waveform updates/second
InfiniiScan Zone touch trigger
Fully upgradable: bandwidth, MSO, memory, measurement applications and WaveGen
The Keysight InfiniiVision 4000 X-series are upgradable digital oscilloscopes that feature a 12.1-inch capacitive touch screen display, 4 Mpts memory and update rate of up to 1 million waveforms per second.
This series has the same capabilities as five separate instruments in one unit including oscilloscope, protocol analyser, digital voltmeter, logic analyser, and dual-channel WaveGen function/arbitrary waveform generator.
The 4000 X-series supports a wide range of optional applications such as MIL-STD 1553 and ARINC 429, I2S, CAN/LIN, FlexRay, RS232/422/485/UART, I2C/ SPI, and USB 2.0 Hi-Speed, Full-Speed and Low-Speed triggering and analysis.
Zone Touch Trigger

Standard

Multi Domain Analysis

Gated FFT
Code: 91162587
DSOX4APPBNDL SW application bundle license for 4000 X-Series, factory installed

Price £4,010.00

Code: 91124015
MSOX4000-VID Enhanced video/TV application package - installed

Price £1,838.00

Code: 91124014
MSOX4000-WAV Dual Channel WaveGen 20 MHz Function/Arbitrary waveform
MSOX4000-WAV Dual Channel WaveGen 20 MHz Function/Arbitrary waveform generator license - installed

Price £867.00

Code: 91124013
MSOX4000-SND Audio serial triggering and analysis (I2S) license - installed

Price £1,838.00

Code: 91124012
MSOX4000-PWR Power analysis application - installed

Price £1,838.00

Code: 91124011
MSOX4000-MSK Mask Limit testing - installed

Price £1,838.00

Code: 91124010
MSOX4000-FLX FlexRay serial triggering and analysis license - installed

Price £1,838.00

Code: 91124009
MSOX4000-EMB Embedded serial triggering & analysis (I2C, SPI) license-installed

Price £1,838.00

Code: 91124007
MSOX4000-CMP Computer serial triggering and analysis
MSOX4000-CMP Computer serial triggering and analysis (RS232/422/485/UART) license - installed

Price £1,838.00

Code: 91124006
MSOX4000-AMS Automotive serial triggering & analysis (CAN,LIN) license-installed

Price £1,838.00

Code: 91124005
MSOX4000-AER MIL-STD 1553 and ARINC 429 serial triggering and analysis-installed

Price £1,838.00

Code: 91124004
MSOX4000-1CF Soft Carrying Case for Agilent 4000 X-series Oscilloscopes

Price £175.00