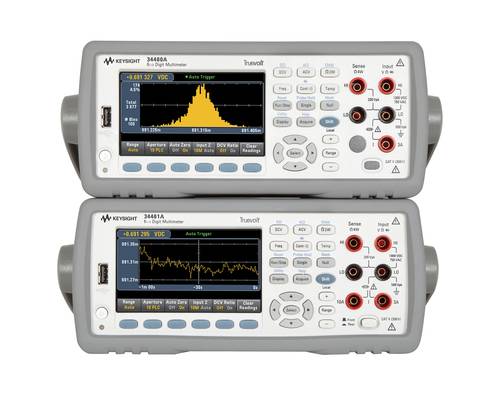 Keysight 34460/34461A series
Keysight 6 1/2 digit Truevolt bench top digital multimeters
Key Features
Fast reading speed of up to 1000 readings/sec
4.3"colour display with built-in bar chart, histogram, trend (34461A), math, and statistics
0.0035% DC, 0.06% AC (34461A) & 0.0075% DC, 0.09% AC (34460A) Accuracy
Multiple connectivity options - USB, LAN/LXI & GPIB (optional)
11 measurement functions: DC/AC voltage, DC/AC current, 2- & 4-wire resistance, Diode, Continuity, Frequency, Period & Temperature
1000 V max voltage input, 10 A max current input (34461A)
The Keysight (formerly Agilent) 34460/34461A are 6½ digit Truevolt benchtop digital multimeters with 4.3" high resolution displays, capable of measuring up to 1000 readings per second. The 34461A is the direct replacement to the Keysight 34401A.
The 34460/34461A are equipped with a broad range of measurement functions including voltage, current, temperature, 2 or 4-wire resistance, frequency, period, and diode.
The Truevolt series comes with free DMM utility software that enables users to capture a digitised record, log measurements for longer periods under PC control or upload data captured directly from the instrument.
Connectivity

GPIB
Serial
Ethernet
USB

Internal DC Power Output

No

Max Reading Speed

300 readings/s
1000 readings/s

Power

100 - 120V 400Hz
100 - 240V 50/60Hz

Operating Temperature

0 - 55 °C