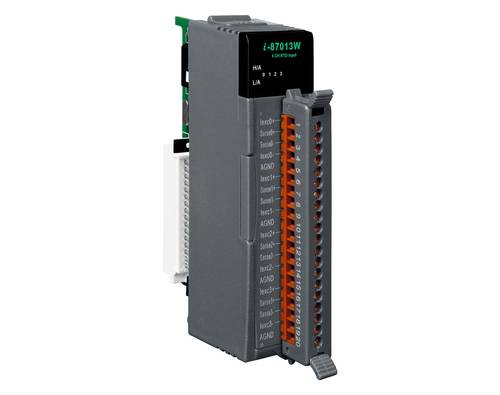 I-87013W - 96113129
I-87013W 4-Ch RTD Input Module (Terminal Block Connector & Serial Bus)
Key Features
Serial Bus Interface
Input Range : ±10 V, ±5 V, ±2.5 V, ±1.25 V, ±20 mA
Individual Channel Configuration
Open Wire Detection for Current Output
Temperature Range: -25 to +75°C
Isolated Open-collector
LED Power Indicator
This section includes I/O modules for ICP DAS PAC & Remote I/O expansion units which cater for most signals such as temperature (Thermocouple, RTD, Thermistor), process and current (mV, mA, Volts, Current, Ac or DC) 12bit to 16bit resolution for analogue signals.
These can be selected as either inputs or outputs, or "multifunction" which is a combination module that has both inputs and outputs.
There are also digital input, digital output, relay output, motion control and communications modules available.
The ICP DAS I-87K I/O modules support Serial bus interfaces.
Communication Interface

Serial bus