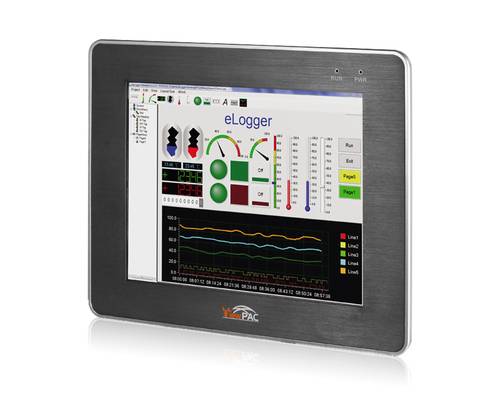 ICP DAS ViewPAC series
ICP DAS Programmable Automation Controller (PAC) with LCD Display
Key Features
Windows CE.NET 5.0
ISaGRAF Ver.3 SoftLogic Inside
Support IEC 61131-3 Standard
Support Web HMI function
PXA270 CPU (32-bit & 520 MHz)
128 MB SDRAM & 96 MB Flash
3.5"/5.7"/10.4" TFT LCD (5.7"/10.4"with Touch Panel)
3 I/O Expansion Slots (support High Profile I/O Modules)
10/100M Ethernet Port (Default: One)
2 Serial Ports (RS-232, RS-485)
IP65 Compliant Front Panel
The ViewPAC from ICP DAS series are programmable automation controllers with 3.5"/5.7"/7"/10.4" touch screen display which combines HMI, data acquisition and control functions in one unit; making them ideal for complex process control, manufacturing management, environment monitoring and industrial automation applications.
This series has three CPU types (PXA270, 80186 & Cortex-A8), four operating system options (WinCE 5.0, Windows Embedded Compact 7, Linux & MiniOS7), three I/O slots and vast software developement tools such as ISaGRAF (SoftLogic), InduSoft (SCADA), C# and Visual Studio.NET.
The ViewPAC series offers vast range of communication interfaces including Ethernet, RS-232/485, USB, CAN BUS, PROFIBUS and GSM/GPRS/GPS for I/O expansion and interacting with other external devices.
Screen Size

5.7 inch
7 inch
10.4 inch
13.5 inch

OS Support

Windows CE 5.0
Windows CE 7.0

CPU Speed

520 MHz
720 MHz

Connectivity

Serial
Ethernet
USB

Pre Installed Software

ISaGRAF
InduSoft
Datasheet

1.45 MB

Datasheet

450.79 KB

Datasheet

2.02 MB

Datasheet

2.29 MB

Datasheet

793.55 KB

Datasheet

3.35 MB