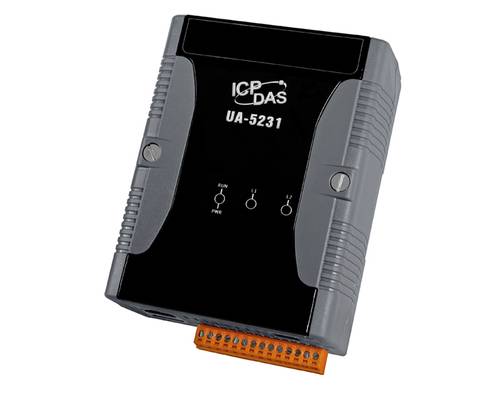 ICP DAS UA-5200 Series
ICP DAS MQTT Data acquisition controller and communications server
Key Features
OPC UA server and MQTT client server
MQTT broker
Linux Kernel 3.2.14 OS
Dual 10/100/1000Mbps ethernet ports
USB 2.0
RS-232 and RS-485 seriel ports
Operating temperature of  -25°C to +75°C
Dual watchdog timers
The UA-5200 are a series of data acquisition controllers and Industrial Internet of Things (IIoT) communication servers from ICP DAS. The UA-5200 includes built-in OPC UA Server and MQTT Client Service support a variety of common industrial communication protocols such as TCP/RTU/ASCII Master and MQTT.

A variety of I/O options are included; Gigabit Ethernet, USB 2.0, RS-23 and RS-485.

The UA-5200 series is compatible with the ICP DAS MQ-7200 product line and third-party devices to import data to a SCADA management system for smart automation.
System Type

Remote PAC Systems