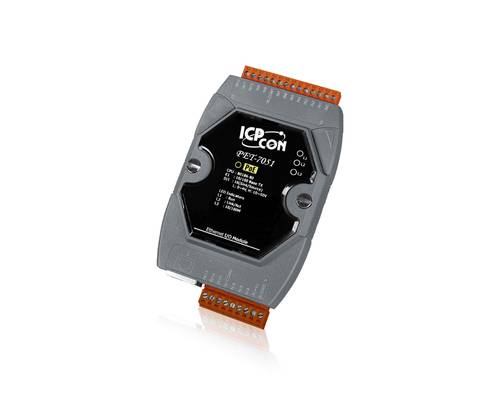 ICP DAS ET-7000/PET-7000 series
IPC DAS Ethernet measurement and control units
Key Features
Industrial Ethernet communications
Flexible I/O, includes analog, digital, relay and counters
Power and communication LED
TCP/IP, UDP, Modbus/TCP
Communication up to 100m without switch hub
Plug in screw terminal block
The ICP DAS ET-7000/PET-7000 series utilises Ethernet networking standards to enable data acquisition and control using Modbus/TCP protocol that makes perfect integration to SCADA software.
This range from ICP DAS caters for numerous aspects of data acquisition allowing monitoring, control and automation of processing or manufacturing applications. They can be used with thermocouples, RTD sensors, pressure, flow, voltage and current.
The PET-7000 features "PoE" that not only data but also power is carried through an Ethernet cable. This feature makes installation of PET-7000 easier.
Signal

Analogue
Digital
Multifunction

I/O Direction

Inputs
Outputs
Inputs & Outputs

Channels

6
7
8
9
12
16
20
Datasheet

229.00 KB

Datasheet

555.29 KB

Datasheet

554.49 KB

Datasheet

354.10 KB

Datasheet

551.62 KB

Datasheet

547.54 KB

Datasheet

1.59 MB

Datasheet

560.40 KB

Datasheet

584.83 KB

Datasheet

573.29 KB

Datasheet

604.37 KB

Datasheet

540.97 KB

Datasheet

602.70 KB

Datasheet

553.53 KB

Datasheet

588.34 KB

Datasheet

551.78 KB

Datasheet

546.60 KB

Datasheet

545.43 KB

Datasheet

308.87 KB