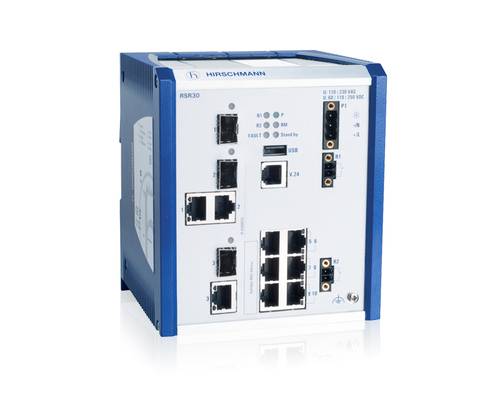 RSR30-0603CCO7T1SCCHPHHXX.X. - 96145775
RSR30-0603CCO7T1SCCHPHHXX.X.
Key Features
6-9 Ports: 10/100/1000BASE
FX Ports Multimode and Singlemode
Redundancy HIPER Ring, MRP, RSTP
Dual redudant power suply
DIN Rail mount
The Hirschmann RSR series switches are available with optional Gigabit ports and an extended temperature range of -40'C to +85'C. Ultra-fast ring recovery times under 10ms are possible using HIPER-Ring redundancy protocol and the switch's robust metal housing offers extended RFI/EMI and vibration immunity. These switches can be configured with wide-voltage power supplies from 16.8-60 V DC or 48-320 V DC and 90-265 V AC with no need for an external power supply.
The manageable RSR20 and RSR 30 switches are designed for extremely high demands with regard to shock and vibration resistance as well as electromagnetic compatibility (EMC).
Management

Layer 2 Managed

Type of Ports

Copper RJ45

Max Operating Temperature

60 °C

Min Operating Temperature

0 °C

Input Voltage

24 VDC
36 VDC
48 VDC