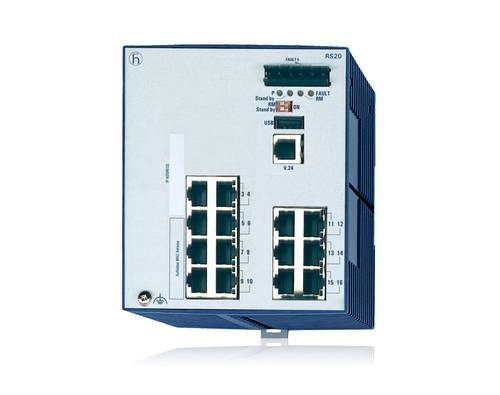 RS30-0802O6O6SDAEHHXX.X. - 96145558
Hirschmann 10 port GE managed switch, 8x FE RJ45 ports, 2x GE SFP slots RS30-0802O6O6SDAEHHXX.X.
Key Features
10 Ports: 10/100/1000BASE-TX RJ45
FX Ports Multimode and Singlemode
PoE Ports
Redundancy HIPER Ring, MRP, RSTP
DIN Rail mount
These hardened, compact managed industrial DIN rail Ethernet switches provide an optimum degree of flexibility with several thousand variants.
RS20 compact open rail managed Ethernet switches can accommodate from 4 to 25 port densities and are available with different Fast Ethernet uplink ports – all copper, or 1,2 or 3 fibre ports. The fibre ports are available in multimode and/or single mode.
RS30 series can accommodate from 8 to 24 port densities with 2 Gigabit ports and 8, 16 or 24 Fast Ethernet ports. The configurations includes 2 Gigabit ports with TX or SFP slots.
RS40 series has 9 Gigabit ports. The switch offers 5x 10/100/1000 RJ45 and 4x 100/1000 RJ45/SFP combo ports. Fibre uplink ports are available in multimode and/or single-mode by using Gigabit or 100 Mbit/s SFP transceivers.
Management

Layer 2 Managed

Type of Ports

Copper RJ45
SFP

Max Operating Temperature

60 °C

Min Operating Temperature

0 °C

Input Voltage

12 VDC
24 VDC
48 VDC