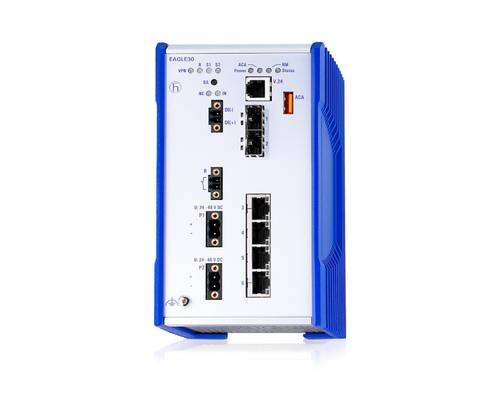 EAGLE30-04022O6TT999TCCZ9HSE3FXX - 96205041
Hirschmann Eagle 30 Industrial Security Router 4x RJ45 FE, 2xGE SFP ports, -40 to 70'c, 18-60 VDC
Key Features
Layer 2/Layer3 access control lists
2x SHDSL ports option available
4 - 6 Ports: 10/100BASE TX, RJ45, SFP slot
Redundancy functions - VRRP (Virtual Router Redundancy Protocol)
Time Synchronisation - NTP
Protection class - IP20
DIN Rail mount
The Hirschmann EAGLE20/30 firewalls with Hirschmann Security Operating System software offer a solution capable of securing and protecting an entire industrial network via strengthened security features.
These multiport firewalls can offer up to six ports for Fast Ethernet and Gigabit Ethernet and two more ports for Symmetrical High-speed Digital Subscriber Line (SHDSL).
The new operating system also supports deep packet inspection (DPI) to ensure the integrity of every packet passing through a network and protect the network from malicious users.
The Firewall Learning Mode (FLM) feature allows for one-click setup to create custom firewall rules for individual network needs.
Type of Ports

Copper RJ45

Max Operating Temperature

70 °C

Min Operating Temperature

-40 °C