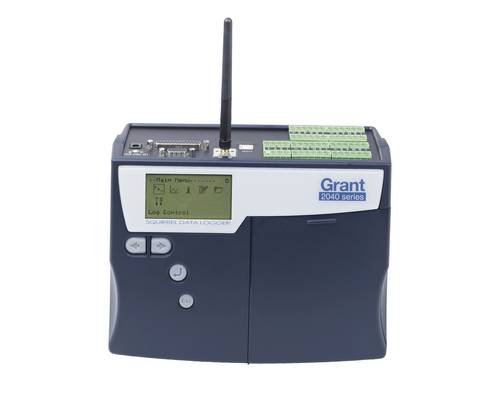 Grant SQ2040 Wi-Fi series
Grant High performance Wi-Fi data logger
Key Features
Fully configurable via the integrated keypad
Compatible with B, C, D type thermocouples
Integral Wi-Fi Ethernet networking
High precision (0.05%)
Advanced data management, to MMC/SD or PC
Flexible communications (USB, Ethernet, RS232)
High speed option (100Hz on 4 channels)
Various Remote connection options e.g. via Ethernet or dial up modem
3 year warranty
The Grant Squirrel SQ2040 Wi-Fi series combines a high channel, high performance, universal inputs with the simplicity of Wi-Fi networking in a compact and portable instrument.

Using multiple 24-bit analogue to digital convertors, twin processors and removable memory and Wi-Fi networking the SQ2040 Wi-Fi provides great flexibility to handle a wide range of complex and demanding multi-channel applications.

The Squirrel SQ2040 Wi-Fi series is ideal for industrial, scientific research and quality assurance applications. The SQ2040 Wi-FI provides standalone data acquisition, advanced networked solutions and data analysis straight out-of-the-box.
Connectivity

Serial
Ethernet
USB

Logger Display

127 x 64 Dot matrix LCD

Logging Channels

Up to 50
Datasheet

797.89 KB

Datasheet

57.00 KB

Datasheet

81.61 KB