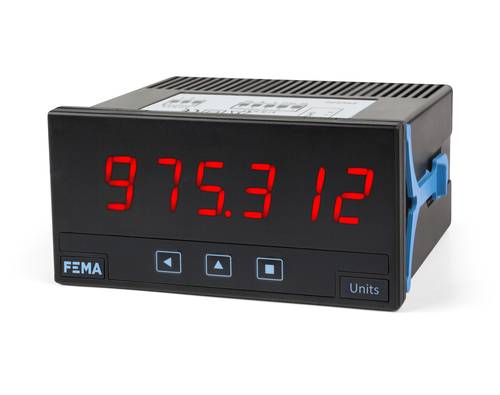 FEMA M60-LC series - Load Cell
FEMA 6 digits, 96x48mm, panel meter for load cells and strain gauges
Key Features
Programmable panel meters 96x48mm (1/8 DIN standard)
6 digits 999999 to -199999 with configurable decimal point
85 to 265 Vac/dc or 11 to 60 Vdc and 24/48Vac power input
Up to 4 alarms, with 1 or 2 setpoints per alarm, hysteresis and activation delays
Up to 3 modules for signal retransmission and control (relays, analogue outputs, & serial communications)
The series M60 load cell panel meter has been designed for load cells and strain gauges for industrial applications. It is a versatile and reliable unit that accepts a wide range of reference signals.
Both "tare" and "auto-tare" functions can be configured for using when removing weight from the cell. Three configurable working modes with up to 60 acquisitions per second and noise rejection to 50 and 60 Hz.
Scalable readings from 999999 to -199999 with a configurable decimal point available.
Please see the Documents section below for more information.
Display Type

Digital Panel Meters

Outputs Fitted

Relay
Analogue

Operating Voltage

11 - 60 Vdc
85 - 265 Vac/Dc

Front Dimensions

96 x 48 mm