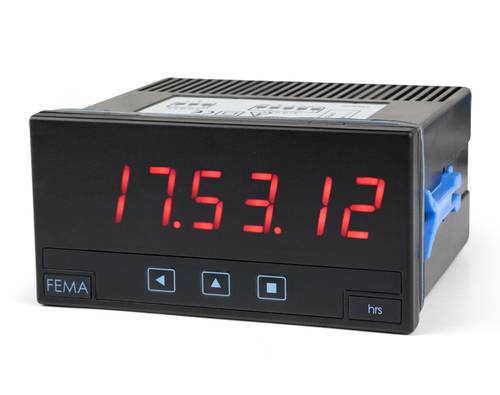 FEMA M60-CR series - Chronometer
FEMA 6 digits, 96x48 mm, digital time counter and chronometer
Key Features
Programmable panel meter 6 digits ("999999"/"-999999")
85 to 265 Vac/dc or 11 to 60 Vdc and 24/48Vac power options
1 or 2 alarms, independent, configurable as maximum or minimum, with setpoint and hysteresis
Protection IP54 standard with optional IP65 Connectios by plug-in screw clamps
The M60-CR digital chronometer and time counter offers a wide variety of display formats. This is ideally suited for all industrial applications. Both versatile and reliable, a wide range of references are available with a variety of output and control options and accesories. Its modular architecture provides flexibility to replace, add or change any of its internal modules and to expand functionality as needed.

External controls for Start, Stop and Reset functions. Reading in different decimal and sexagesimal formats, configurable preset value, with 6 digit reading, and different counting functions.

Includes functions for multiple types of counting (up, down, repeatable), fast acces to alarm setpoints, "on power-up" function and configurable alarm delays, among other functions.
Display Type

Digital Panel Meters

Input Type

Chronometer / Counter

Outputs Fitted

Relay
Modbus RTU
RS232
RS485

Operating Voltage

85 - 265 Vac/Dc

Front Dimensions

96 x 48 mm