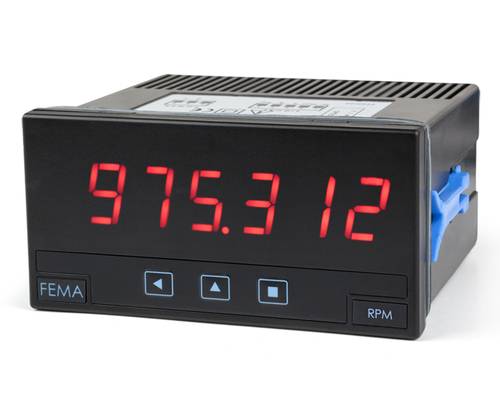 FEMA M60-C1 series - Counter
FEMA 6 digits, 96x48 mm, impulse counter/ratemeter panel meter, Universal Input
Key Features
Programmable panel meter
6 digits ("999999"/"-999999")
85 to 265Vac/dc or 11 to 60 Vdc and 24/48Vac power options
1 or 2 alarms, independent, configurable as maximum or minimum, with setpoint and hysteresis
Protection IP54 standard with optional IP65
The M60-C1 digital impulse counter, ratemeter and perdiometer for panel mount is suitable for all type of impulse signals, and for all industrial applications. Both versatile and reliable, it offers a wide range of references with a variety of output and control options and accesories. Its modular architecture provides flexibility to replace, add or change any of its internal modules to expand functionality as needed.
Accepts impulse signals from a wide range of sensors (NPN, PNP, Namur, push-pull, pick-up, inductive, free-potential, quadrature), with 6 digit reading, scalable to any value between 999999 and -199999, and configurable decimal point. Provides excitation voltage from +5Vdc to +18Vdc to power up transducers.

Includes functions for fast sensor configuration, multiple type of counting (add, substract, inhibit, quadrature), fast acces to alarm setpoints, "trigger sense" function and configurable alarm delays, among other functions.
Display Type

Digital Panel Meters

Input Type

Chronometer / Counter

Operating Voltage

11 - 60 Vdc
85 - 265 Vac/Dc

Front Dimensions

96 x 48 mm