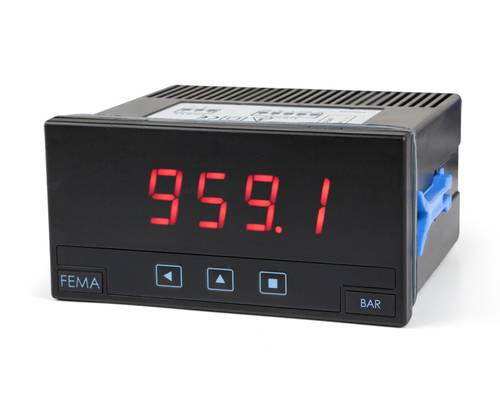 FEMA M40-P/D/A series - Process
FEMA 4 digits, 96x48 mm, Process Panel Meters, optional 5th digit fixed to zero
Key Features
4 digits ("9999"/"-9999") or 5 digits with last digit fixed to zero ("99990"/"-99990")
Programmable panel meters 96x48mm (1/8 DIN standard)
Measures 0-10Vdc, 4-20mA and electrical DC & AC signals
85 to 265 Vac/dc or 11 to 60 Vdc and 24/48Vac power input
Up to 40 alarms, with 1 or 2 setpoints per alarm (activatin windows), hysteresis and activation delays
Up to 3 modules for signal retransmission and control (relays, analogue outputs, & serial communications)
The series M40 Panel meters from FEMA are designed for cost effective applications in demanding industrial environments.
With a process input (±10V DC & ±20mA), DC voltage & current (up to 600V DC & up to 5A DC) and AC True RMS voltage & current (up to 600VAC & up to 5A AC), the series M40 can be used as a voltmeter and ammeter (mA).
The FEMA series M40 is a complete range of programmable panel meters in 96x48mm format (standard 1/8 DIN) and configuration by front keypad.
Resolution is 4 digits (maximum display "9999") or 5 digits with last digit fixed to zero (maximum display "99990").
Display Type

Digital Panel Meters

Operating Voltage

11 - 60 Vdc
85 - 265 Vac/Dc

Front Dimensions

96 x 48 mm
Datasheet

408.47 KB

Datasheet

400.74 KB

Datasheet

400.44 KB