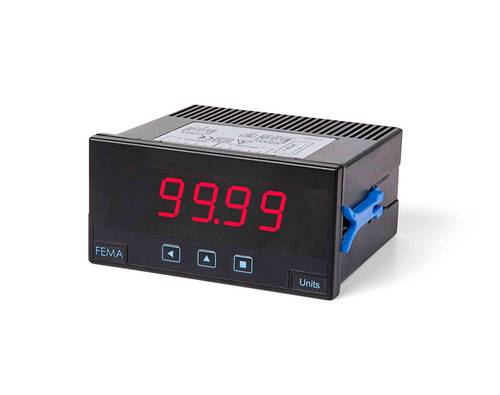 FEMA C40-D series - Universal
FEMA 4 digits, 96x48 mm Multisignal Panel Meters, Universal Input
Key Features
Programmable panel meter 4 digits ("9999")
Industry standard 1/8 DIN
Universal power Input options for 18 to 265V AC & DC Input
Input takes huge range of electrical signals: temperature, process and even high voltage signals
1 or 2 alarms, independent, configurable as maximum or minimum, with set point and hysteresis
5 Year warranty
The series C Panel Meter from Fema is designed for cost effective applications in demanding industrial environments. The best feature is its universal input, that can accept a wide range of signals; mA and Vdc, thermocouples K, J, E, N, L, R, S, B, T, C, resistive temperature probes Pt100, Pt500, Pt1000, Ni100, Ni200 and NTC, AC and DC voltages up to 600 V and AC and DC currents up to 5 A.
The series C is a programmable panel meter in 96x48mm format (standard 1/8 DIN) that are configured simply by the front keypad and internal jumpers for the input selection. Resolution is 4 digits (maximum display "9999"). IP65 protection included as standard.
IN THIS VIDEO our product specialist, Andy Pook explains the unique features of what is the most cost effective universal input panel meter on the market today.
Display Type

Digital Panel Meters

Operating Voltage

18 - 265 Vac/Dc

Front Dimensions

96 x 48 mm