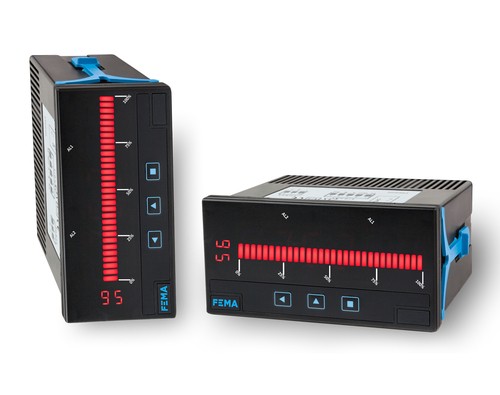 FEMA BAR series - Process
FEMA 1/8 DIN LED bar graph indicator for process signals
Key Features
Accepts process and potentiometer signals
+15Vdc (max. 30mA) Excitation voltage
Power 18/265 Vac/dc
Bar meter
1/8 DIN cut-out size
The FEMA BAR series are a range of panel meters that display in bar graph reading format.
They accept: 4/20mA, 0/10Vdc, ±20mA, ±10Vdc and potentiometer signals and display these as a reading from 0 to 100%. The barpgraph scaling is easily configurable using the buttons on the front.
Both relay and 4/20mA analogue outputs are available as an option.
The FEMA BAR series is designed for industrial applications, where a fast visualisation of a process is required as either level or pressure for example.
Display Type

Bargraph Meters

Displayed Digits

Bargraph

Front Dimensions

96 x 48 mm

Operating Voltage

18 - 265 Vac/Dc