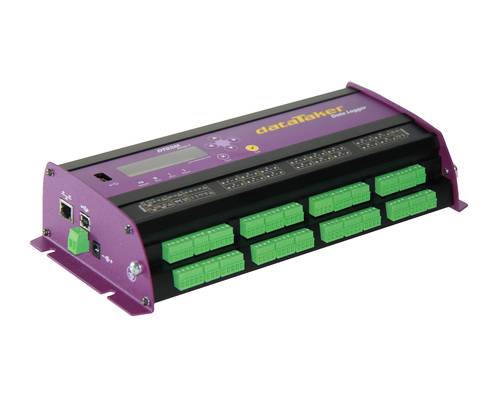 DataTaker DT85 series
DataTaker Intelligent 48 channel data logger
Key Features
Up to 48 analog sensor channels, 12 digital channels
Two serial sensor input and four SDI-12 inputs
Stores over 10 million readings internally plus USB storage facility
Ethernet, RS232 and USB communications
Graphical user interface runs on web browser
Switchable sensor excitation aids low power applications
Integrated cellular modem (DT85M and DT85GM only)
Vibrating Wire support (DT85GM only)
Modbus and web servers built-in
CANbus and GPS interface modules available
The DT85 series data logger from dataTaker allows up to 32 isolated or 48 common referenced analog inputs to be used in many combinations.

Supported measurements include temperature, DC voltage, current, resistance, bridges, strain gauges and frequency. They are isolated and over-voltage protected to provide reliable monitoring in noisy environments.
The DT85 series data logger has universal digital channels which provide input, output and counters up to 10kHz.

Other digital features include a trigger for event logging, phase encoding and a latching relay.
Connectivity

Serial
Ethernet
USB

Logger Display

2 x 16 Dot matrix LCD

Logging Channels

Up to 50
Datasheet

861.01 KB

Datasheet

755.59 KB

Datasheet

747.38 KB

Datasheet

768.45 KB

Datasheet

168.30 KB

Datasheet

173.01 KB

Datasheet

94.07 KB

Datasheet

393.59 KB