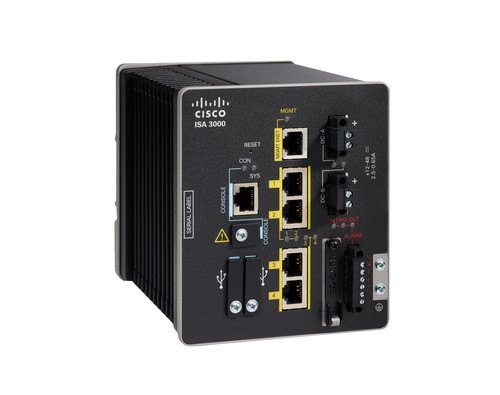 Cisco ISA-3000-2C2F-K9 - 96205159
Cisco Industrial firewall, 4x GE ports (2x RJ45, 2x SFP ports), NAT, VPN, DMZ, Routing
Key Features
Enforce security policies in IoT environments
Easy to deploy and setup - ready for any industry
Protect individual zones with network segmentation
Network Address Translation (NAT) for more efficient operations
Inspect and detect network threats
The Cisco Industrial Security Appliances are true industrial firewalls that provide OT targeted protection based on proven enterprise class security.
The Cisco ISA 3000 with four data links is a DIN rail mount, ruggedized appliance that provides the widest range of access, threat, and application controls for the harshest and most demanding of industrial environments.
The Cisco ISA 3000 series starts with the same industrial success of the IE 4000 switch hardware design and adds the proven security of the Cisco ASA firewall, firepower services and Firepower Threat Defense (FTD) software.
The Cisco ISA 3000 is the answer to provide both safety and security to your network modernization projects. It also provides the anchor point for converging IT and OT security visibility without interfering with industrial operational practice. This security appliance is built to withstand extreme environments, reflect industrial design, all the while adhering to overall IT network design, compliance, and performance requirements.
Type of Ports

SFP
Copper RJ45

Max Operating Temperature

70 °C

Min Operating Temperature

-40 °C