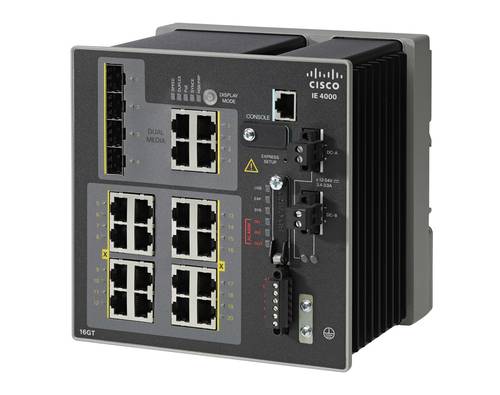 IE-4000-16GT4G-E - 96165130
IE-4000-16GT4G-E 20 Port 4xGE Combo, 16xGE RJ45, Base License
Key Features
Bandwidth and capacity to grow with networking needs: 20-Gbps non-blocking switching capacity with up to 20 Gigabit Ethernet ports per switch
Cisco IOS Software features for smooth IT integration and policy consistency
True zero-touch replacement for middle-of-the-night or middle-of-nowhere failure
Line-rate, low-latency forwarding with advanced hardware assist features (such as NAT, IEEE1588)
Support of Industrial automation protocols EtherNet/IP (CIP) and PROFINET, MRP (IEC 62439-2)
The Cisco® Industrial Ethernet (IE) 4000 series is a ruggedised switch providing superior high-bandwidth switching and enhanced routing capabilities (through Cisco IOS®).

The Cisco IE 4000 series delivers highly secure access and resilience using Cisco Resilient Ethernet Protocol (REP), using a web device manager to deliver out-of-the-box configuration and simplified operational manageability a richer feature set is attained.

The Cisco IE 4000 series can be easily installed in the network to allow advanced security, data, video, and voice services over industrial networks.
Management

Layer 2 Managed

Type of Ports

Copper RJ45

Max Operating Temperature

70 °C

Min Operating Temperature

-40 °C

Input Voltage

24 VDC
48 VDC
110 VDC
220 VDC
110 VAC
220 VAC
240 VAC