This product is no longer available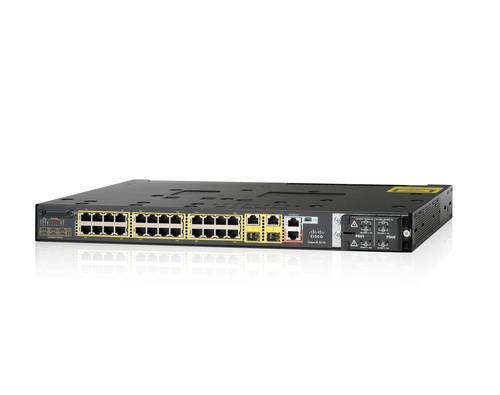 IE-3010-24TC - 96165159
IE-3010-24TC 28 Port 24xFE RJ45 ports, 2xGE Combo ports, Base License
Key Features
28 Fast Ethernet combination of RJ45 and SFP ports
20-Gbps non-blocking switching capacity
Cisco IOS Software features for smooth IT integration and policy consistency
True zero-touch replacement for middle-of-the-night or middle-of-nowhere failure
Line-rate, low-latency forwarding with advanced hardware assist features (such as NAT, IEEE1588)
Simplified software upgrade path with universal images and backup
Support of Industrial automation protocols EtherNet/IP (CIP) and PROFINET, MRP (IEC 62439-2)
The Cisco® Industrial Ethernet (IE) 3010 switches with 28 Fast Ethernet interfaces are high-performance and ruggedised with Layer 3 switching and Power-over-Ethernet (PoE) capabilities, making them an ideal choice for access switching in industrial environments.

The Cisco IE 3010 delivers comprehensive Cisco IOS® software security features and high-availability ring protocols (such as Cisco's REP).

The Cisco IE 3010 is built for outdoor enclosures and harsh environments while adhering to overall IT network design, compliance, and performance requirements. Management is made easy with a GUI-based web user Interface, and Express Setup for out-of-box configuration to deliver advanced security, data, video, and voice services over industrial networks.
Management

Layer 2 Managed

Type of Ports

Copper RJ45

Max Operating Temperature

70 °C

Min Operating Temperature

-40 °C

Input Voltage

24 VDC
48 VDC
110 VDC
220 VDC
110 VAC
220 VAC
240 VAC
Code: 96175034
PSU - PWR-RGD-AC-DC/IA, High AC/DC (88-300VDC/85-264VAC)
PSU - PWR-RGD-AC-DC/IA, High AC/DC (88-300VDC/85-264VAC) Power Supply Module for the IE 3010

Price £0