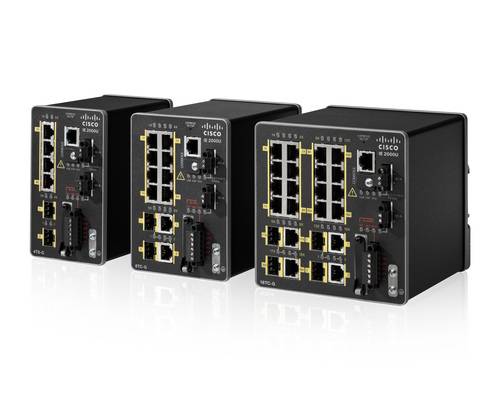 Cisco IE 2000 series
Cisco 6, 10, 18, 20 port Layer 2-3 industrial Ethernet switches
Key Features
Up to 16 Fast Ethernet (FE) RJ45 ports
2 Gigabit Ethernet (GE) or Fast Ethernet (FE) SFP ports on select models
2 combo ports; either SFP (100Mbps and 1Gbps) or RJ45 uplinks
Dual-input DC power supply with alarm relays
DIN rail mountable
Power over Ethernet (PoE) on select models
Swappable SD flash card and mini-USB connector for firmware and configuration backup
Ethernet/IP and PROFINET
Conformal coating available 
The Cisco® Industrial Ethernet (IE) 2000 series is a range of compact, ruggedised access switches aimed at handling security, voice, and other low bandwidth traffic across industrial networks.

The Cisco IE 2000 series provides secure access and industry-leading convergence using Cisco Resilient Ethernet Protocol (REP) for redundancy.

The Cisco IE 2000 series is easy to manage, resilient, and perfect for networks requiring Layer 3 capabilities while operating a low bandwidth application.
Number of Ports

6
10
18
20

Management

Layer 2 Managed

Type of Ports

Copper RJ45
SFP

Max Operating Temperature

70 °C

Min Operating Temperature

-40 °C

Input Voltage

12 VDC
24 VDC
48 VDC
110 VDC
220 VDC
110 VAC
220 VAC
240 VAC