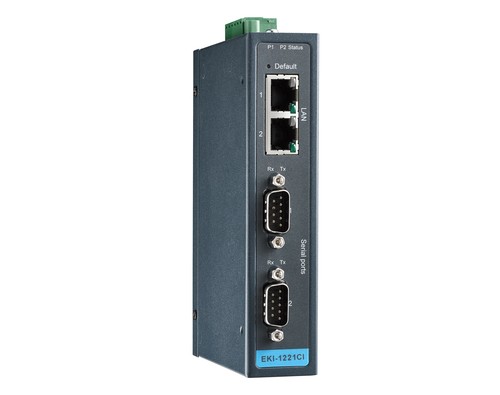 Advantech EKI-1522-CE - 96215709
2-port RS-232/422/485 Serial Device Server
Key Features
Provides multiple configuration configuration methods including Windows utility, Telnet console, and web browser
Maximum of 16 hosts accessed in TCP client mode
Supports 32/64-bit Windows 2000/XP/Vista/7/8/8.1/10, Windows Server 2003/2008/2012, and Linux
Maximum of five hosts can access one serial port
Provides COM port redirection (Virtual COM), TCP, and UDP operation modes
The Advantech EKI-1500 are industrial-grade network-based serial device servers for connecting up to 16 serial RS-232/422/485 devices, such as CNCs, PLCs, scales and scanners, directly to a TCP/IP network. The EKI-1500 provide a simple and cost-effective way to bring the advantages of remote management and data accessibility to thousand of devices that can't connect to an Ethernet network.
With COM port redirection mode, standard serial operation calls are transparently redirected to the Advantech EKI-1500 series, guaranteeing compatibility with legacy serial devices and enabling backward compatibility with existing software. With TCP server, TCP client and UDP modes, the EKI-1500 series ensure the compatibility of network software that uses a standard network API.
The Advantech EKI-1500 offer multiple ways to configure through Windows utility, Web Browser, serial console or Telnet console, these methods make it easy manage many serial devices on your network.
Type of Serial Ports

RS-232
RS-422
RS-485

Type of Ethernet Ports

Copper RJ45

Min Operating Temperature

-10 °C

Max Operating Temperature

60 °C