This product is no longer available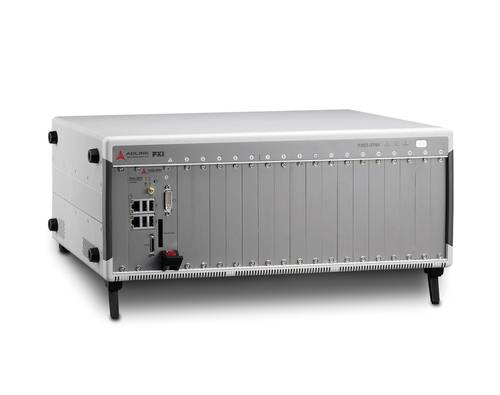 Adlink Technology ADLINK PXES-2780 series
ADLINK 18 Slot PXI Express 3U Chassis with 10x hybrid peripheral slots
Key Features
PXI™-5 PXI Express hardware specification
18-slot PXI Express chassis with one system slot, one system timing slot, ten hybrid peripheral slots and 6 PXI Express peripheral slots
Configurable PCIe switch fabric, can be configured as four-link or two-link PXI Express chassis
Up to 8 GB/s system bandwidth & up to 4 GB/s peripheral bandwidth for dedicated slots
0°C to 55°C extended operating temperature range, maximum total usable power is 800 W under 55°C
Intelligent chassis management: Automatic fan speed control, Chassis status monitoring and reporting & Remote chassis power on/off control
BNC connectors for 10 MHz clock input/output
Power, temperature and fan monitoring LEDs
The Adlink PXES-2780 is a 3U 18-slot PXI Express chassis that offers one system slot, one system timing slot, ten hybrid peripheral slots, and six PXI Express peripheral slots for versatile test and measurement applications that require enhanced system bandwidth.
The ten hybrid-slots are designed to accept CompactPCI, PXI, CompactPCI Express and PXI Express modules, maximising flexibility. The PXES-2780 has an 8 GB/s system bandwidth and up to 4 GB/s slot bandwidth for dedicated peripheral slots.
Equipped with an industrial grade AC power supply, the PXES-2780 can provide 800W power at 55°C operating temperature and offers a superior cooling capacity from three fans on the rear of the chassis.