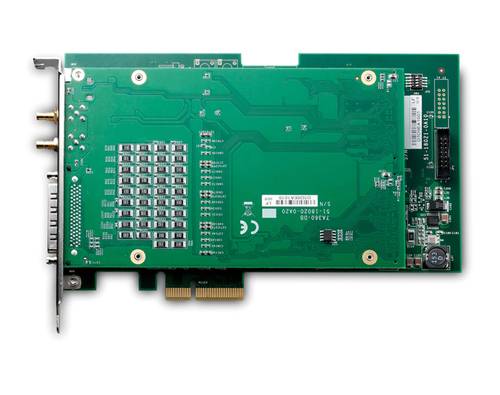 ADLINK PCIe-7360 series
ADLINK 32-CH High-Speed Digital I/O with 400 MB/s Transfer Rate
Key Features
x4 lane PCI Express Interface

8/16/24/32-CH at up to100MHz for DI or DO
8/16-CH at up to 200MHz for DI in external clock mode
400 MB/s maximum throughput
Voltage level software selectable from 1.8 V, 2.5 V and 3.3 V
80-step phase shift in external clock mode
Per group (8-bit) input/output direction selectable
Support for I2C and SPI programmable serial interfaces for external device communication
Scatter-gather DMA support
Flexible handshake and external digital trigger modes
8-channel auxiliary programmable I/O
The Adlink PCIe-7360 is a high speed 32-CH digital I/O card with data transfer rate of up to 400 MB/s. This fast transfer rate makes the PCIe-7360 ideal for high speed data acquisition and exchange applications such as digital image capture, video playback and IC testing.
The 32-CH are bi-directional and can be individually configurable as input or output port. The PCIe-7360 also supports software selectable logic levels of 1.8 V, 2.5 V and 3.3 V.
The PCIe-7360 supports I2C and SPI programmable serial interfaces for external device communications in master mode or fast mode using bi-direction lines.
External Digital Trigger Input

Yes

Operating Temperature

0 - 60 °C