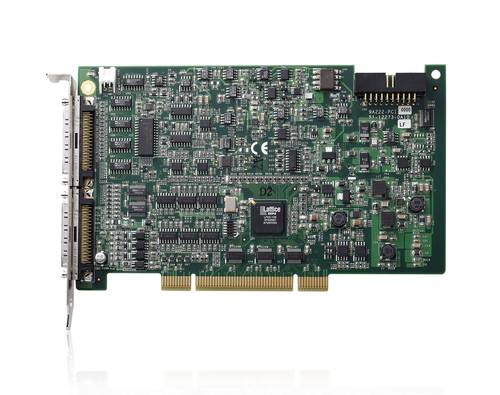 ADLINK PCI-9222/9223 series
ADLINK 16/32-CH, 16-Bit, 250/500kS/s Multifuction DAQ with Encoder Input
Key Features
32-bit Universal PCI compatible
16/32 inputs channels
Up to 500kS/s sampling rate
Two simultaneous analog output channels
Supports Windows 2000, XP, 2003, Vista and Linux
Multifunction digital I/O with PWM outputs
Two 4MHz encoder channels
Drivers for VB, C/C++, Delphi, LabVIEW and MATLAB
The ADLINK PCI-9222/9223 are 16-bit high performance multifunction motion control and DAQ card, with eight different input ranges. They come with two static analog output channels, two encoder inputs and a multifunction digital I/O interface. This can be programmed for one of the following modes; 32 lines of digital I/O, four counter/times or four PWM outputs.
Analog input, output and function I/O can funtion simultaneously, and be synchronised with multiple cards through the SSI bus.
This makes the PCI-9222/9223 one of the best single board solution for combined data acquisition and simple motion control functionalities.
External Digital Trigger Input

Yes

External Analogue Trigger Input

No

Operating Temperature

0 - 55 °C
Datasheet

1012.07 KB

Datasheet

163.26 KB