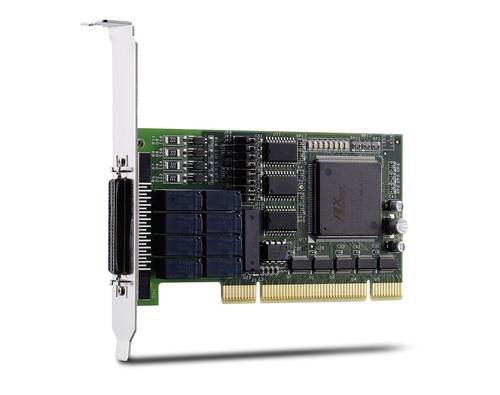 ADLINK PCI 7250/ LPCI 7250 series
ADLINK 8-CH Relay Outputs & 8-CH Isolated Digital Input
Key Features
PCI, LPCI and CompactPCI form factors
8 relay actuator outputs
8 isolated digital inputs for PCI and 16 for cPCI version
Supports Windows 7, Vista, 98, NT, 2000, XP, Server 2003 and Linux
Low pass RC filter on digital input
Drivers for C/C++, VB, Delphi, LabVIEW and DASYLab
Relay status LED indicators
2 year warranty
The ADLINK PCI 7250 provides 8 relays for switching on/off devices and 8 opto-isolated digital inputs. Of the 8 relays, 4 relays are Form C (R0 to R3) and 4 relays are Form A (R4 to R7). The accessory PCI 7251 is an 8 channel input and 8 relay extension board that can be used with the PCI-7250.
The LPCI 7250 is a new Low profile version of this board with all 8 relays Form C (SPDT). It is also compatible with both 3.3V and 5V PCI bus.
The CompactPCI 7252 provides 8 relay actuators and 16 opto-isolated digital inputs. All relays are of Form C type.
I/O Type

Relay & Transistor

External Digital Trigger Input

No

Operating Temperature

0 - 60 °C
Datasheet

1012.07 KB

Datasheet

182.56 KB