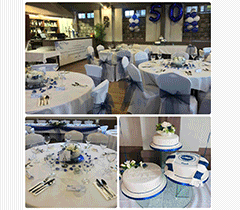 Friday 11th January 2019 saw Jackie Hoey, the Amplicon Accounting Technician tie the knot with her fiancée Paul Thompson.

The wedding took place at Brighton Town Hall, where the happy couple made their vows. Following the ceremony, Jackie, Paul and their closest friends and family moved on to the reception at a local Brighton pub to continue celebrating the special event.

Jackie is one of our much loved team members at Amplicon and so we did everything to help make her day perfect. Our Marketing Manager, Miriam Bernal, took the challenge to transform the reception room into a stunning setting that would impress Jackie, Paul and their guests.

The day was a fabulous celebration for Jackie and Paul, even the sun managed to shine; loads of friends and Amplicon colleagues turned up to celebrate and share this wonderful day.

We wish them every happiness as they start their life together as husband and wife.
18.01.2019