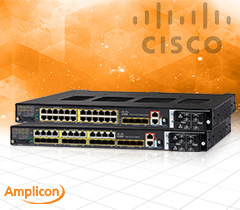 Amplicon, the UK premier partner for Cisco products has introduced the IE 4010, an industrial rackmount Ethernet switch designed to withstand extreme industrial environments whilst offering strengthened security, easy deployment and ease-to-use.

The Cisco IE 4010 is one of the most advanced Industrial Ethernet switches on the market, offering superior security, functionality, approvals and robustness.

Designed to withstand extreme industrial environments, the IE 4010 offers 24 Gigabit PoE/PoE+ capable ports, making them an ideal choice for use as access switches in industrial environments to connect high definition IP cameras, Access Points and IP phones.

These high-performance switches provide high-bandwidth switching (Layer 2) and proven Cisco IOS Software-based routing (Layer 3) capabilities to improve uptime, performance, and safety of industrial systems and equipment.

The IE 4010 offers a comprehensive range of security features to deliver highly secure connectivity and access control, as well as supporting Cisco TrustSec and link-layer MACsec encryption to protect data traffic across the network.

To further aid in reducing complexity within the network, the IE 4010 supports a GUI-based web user Interface, and Express Setup for the switch provides easy out-of-box configuration to reduce commissioning time. For a small fee users can also install Cisco's Industrial Network Director (IND), supporting the visualisation and design of the IIoT network architecture.

The Cisco IE 4010 is ideal for industrial Ethernet applications that require hardened products, including process manufacturing, utility substations, intelligent transportation systems (ITSs), rail transportation, and other similar deployments.
24.04.2018