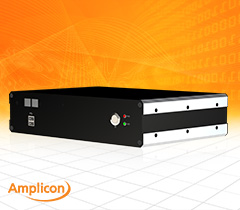 Amplicon, the UK market leader in the manufacture of high-performance industrial computers has introduced the Impact-E x224BT, a new high performance embedded computer designed to provide expandability, longevity and reliability in demanding industrial applications.

The Amplicon Impact-E x224BT has been designed to deliver flexible expandability in a compact and reliable unit. With 2x full length mPCIe and 2x PCI expansion slots, users can easily integrate this powerful computer into complex system architectures that require multiple points of control and automation.

Powered by the Intel® ATOM™ processor, the Impact-E x224BT benefits from low power consumption, resulting in less heat exertion and reducing running costs. In addition, its fanless design eliminates the risk of internal damage from dust and particles, making it ideal for applications that require 24/7 operation, such as CCTV surveillance and production control.

The Impact-E x224BT offers advanced features, including a lifecycle of over 15 years thanks to its ®Intel's Bay-trail processor, 2.5" SATA as standard with mSATA compatibility and up to 8Gb DDR3L on-board RAM, providing users with sufficient bandwidth for any application.

Furthermore, the Impact-E x224BT is fully configurable to meet application specific requirements, with the operating system and exterior fully customisable.
27.03.2018