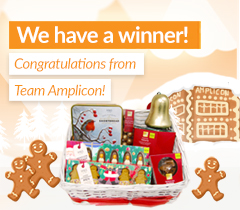 Congratulations to Tim Monaghan, from Abaco for winning our Winter Sprinter, Christmas competition! All your hours of hard work have finally paid off, and just in time to take home a delicious hamper of Christmas treats for you to share with your friends and family.

Tim Monaghan said: "A very addictive game, although infuriating at times, thankfully persistence is a great substitute for any natural talent in my case. I would like to thank Amplicon for the Hamper and removing the game from the website."

We would also like to say congratulations to David Thomas, from Atkins for coming runner-up! This Christmas you will be able to entertain the kids and build your very own decorations with your new Polaroid 3D Pen!

David Thomas said: "I was delighted to discover that I had won a 3D Pen! The game was fun and very addictive. Thanks guys!"

In the meantime, merry Christmas to all of our wonderful customers, we hope you all have a wonderful New Year and we look forward to seeing you in 2018!
20.12.2017