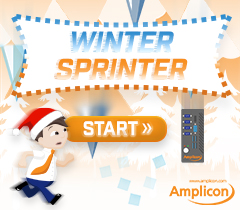 As we head towards the end of another year Amplicon has been searching for the perfect way to say 'Happy Christmas' to all of our valued customers.
The marketing team took up this challenge with excitement, quickly designing a very creative concept that today has become one of their proudest creations, they have named it
Winter Sprinter

!

Winter Sprinter
is a desktop arcade-style video game developed by Amplicon to give all its customers something fun and exciting to engage with during the Christmas period. This fun game allows you to take on the role of an Amplicon Engineer, rushing to assemble high-quality Industrial Computers without getting hit by deadly icicles!
This addictive game will be sure to provide you with some festive entertainment but make sure you don't play at work, because we can't guarantee you will ever go back!
In the Christmas spirit, Amplicon has also decided to reward our players with a luxury Christmas hamper full of delicious goodies. So don't miss out this fantastic opportunity to start your Christmas holidays with a prize of delicious chocolates and treats!
Play now!

Happy, happy Christmas
11.12.2017