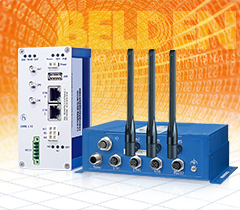 Amplicon, a specialist supplier of data communications and networking introduces the OWL-LTE family of Industrial Cellular routers from Belden.

The new Belden Cellular routers provide advanced routing functionality and security capabilities in a robust yet compact design

The Belden OWL-LTE and OWL-LTE M12 have been specifically designed for high-speed, wireless connectivity. The compact design places the series amongst the smallest LTE edge routers on the market today.

Specifically for applications where space is at a premium, the OWL LTE series outperforms without sacrificing features or functionality, still offering a rich set of interfaces including Digital I/O, Serial RS323 and Fast Ethernet LAN.

These new Belden models are extremely flexible, thanks to an unrestricted sandbox network engineers can create custom C/C++ apps and Linux/Unix based scripting which can be easily mounted onto an SD card. The high degree of customisation offered by the OWL-LTE series means that each of these units can be adjusted appropriately regardless of the application.

The OWL LTE M12 builds on the same great features as the original OWL LTE, but offers a more robust configuration. Its rugged, vibration-proof design and its adherence to a multitude of standards and approvals make this unit suitable for a variety of sectors, including Transportation, Radio, Safety and Environmental.

Lastly, with security at the forefront of IIoT, both cellular routers support VPN and encryption methods, including OpenVPN and IPsec VPN.
26.10.2017