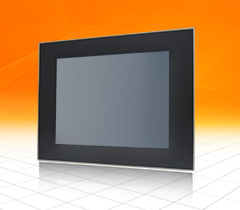 Amplicon, market leading manufacturer of industrial computers, launches its most powerful Industrial Panel PC to date, the new Senses 5400.

The new all-in-one Industrial Panel PC is the first to run the powerful Intel® ATOM™ E3845 processor, offering exceptional computing power and boasting a lifecycle of 15+ years.

The new Senses 5400 combines a truly sleek and modern design with a set of innovative and protective features including, Projected Capacitive Multi-Touch and IP65/IP20 rated protection making it ideal for most industrial SCADA/HMI applications.

The superior performance of the new Industrial Panel PC is achieved thanks to the use of powerful Intel® ATOM™ processors, offering enhanced computing power and boasting a 15+ year lifecycle.

The wide operating temperature, IP65 screen and IP20 back panel makes the Senses 5400 suitable for a wide variety of SCADA/HMI applications such as rail, marine or factory floors.

In addition to its high performance, the storage capacity has also been dramatically improved, giving engineers the option to use a single SATA 2.5", HD/SSD, CFII (up to 64G) or SD card.

Available in five different sizes, 10",12",15", 17" and 19", the new Senses 5400 offers flexible I/O configuration through its drop-in replacement slots, making system integration an effortless task.

Additionally, the Senses 5400 comes complete with a full rackmount kit and runs active support for Windows 7, Windows 10, Windows 10 IoT and Linux.
27.09.2017