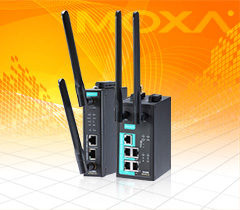 Amplicon introduces the most secure cellular gateway/routers, the OnCell G3150A-LTE and the OnCell G3470A-LTE from market leading supplier Moxa.

Leading-edge developments in cellular technology delivers uninterrupted state-of-the-art global 4G/LTE coverage, regardless of how harsh the environment may be or distance between the control room and the end site.

Secure 4G/LTE connectivity provides a cost-effective monitoring solution where Ethernet cabling cannot be installed; this allows users to remotely control devices such as CCTV cameras, pressure gauges and transport systems, avoiding costly onsite maintenance costs.
15.08.2017