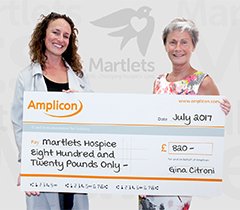 At Amplicon supporting charities is an intrinsic part of our everyday working life. Throughout our 40 years in the manufacturing and engineering industry we have supported a number of charities over the UK, including CLIC Sargent and Breast Cancer Now. As part of our corporate responsibility we strive to support our local community with the intention of helping those less fortunate than ourselves.

To ensure we donate as generously as we can, our sales team plays a crucial role in our fundraising. For every £10,000 order booked they receive a £10 token; they have the choice to select any of the three annually chosen charity boxes.

This year we supported three new charities, Remembering Spencer, The Martlets and The Chestnut Tree. These were chosen because of the significance of the work they carry out in the local area. The sales team through their hard work and determination during our 2016/17 financial year were able to donate £2,770 through this scheme, helping to provide valuable resources used to change the lives of others.

Gina Citroni, Amplicon CEO commented: "Providing local charities with important funding and resource is one of the most fulfilling projects we have undertaken; I am incredibly proud of my team and their endless energy and generosity."

Emma Knight, The Martlets Head of Corporate and Major Donor Giving said: "The staff at Amplicon continues to support the work of The Martlets. Once again they have shown their wonderful support in raising and donating £820, and don't intend to stop! The support of the community is vital to the continuation of the free, life-changing hospice care Martlets provides for people with a terminal illness in and around Brighton & Hove. Amplicon's support is of enormous value and on behalf of everyone at Martlets, and the patients and families who will benefit from your generosity, thank you."

Vicky Norman, Corporate Fundraiser for Chestnut Tree House, said: "We are currently caring for over 300 children with life-shortening illnesses across East and West Sussex and South East Hampshire, both at the hospice and out in the families' own homes. Our annual care costs are £3.5 million, yet we receive less than 7% of the resources required from the central government. The support from companies like Amplicon is invaluable to us and I would like to say a heartfelt thank you to everyone at Amplicon for their wonderful support which will make a really big difference to the children and families we care for."

Amanda and Paul Roberts, founders of Remember Spencer charity said: "We are incredibly grateful to Amplicon, we are a very small Charity and your most generous donation will enable us to continue to help local children and their families suffering the trauma of childhood cancer."
02.08.2017