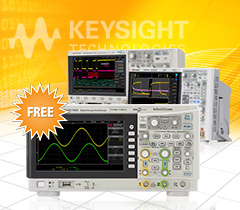 For a limited time, customers that purchase any InfiniiVision 3000T or 4000X will receive a FREE InfiniiVision DSOX1102G Oscilloscope.

Keysight's InfiniiVision 1000 X-Series offer entry-level pricing with superior performance and optional capabilities that are not available in any other oscilloscope in its class. This range of four models includes Keysight's propriety technology to enable a high 50,000 waveforms per second update rate so it's simple to catch infrequent and random signal glitches. The new DSOX1102G features 70 MHz (upgradeable to 100 MHz) and has a built-in 20 MHz Function Generator. Each free oscilloscope also ships with a 3 year warranty included.
To find out how to claim your complimentary DSOX1102G Oscilloscope click here.

19.04.2017