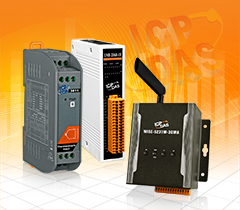 Amplicon provide the marketplace with a wide range of advanced computer-based measurement and automation systems that can be customised to meet the requirements of our customers.

We are expanding our portfolio of low cost and user friendly data acquisition products from ICP DAS.The new SG-3011H, USB-2051-32 and WISE-5231M-3GWA deliver on the Amplicon enviable reputation for introducing innovative products to the marketplace that guarantee reliability and high performance!

The 3G-3011H Isolated Thermocouple input signal conditioner is the most effective conditioner yet, helping you to get precise results through its improved high speed sample rate.

The new USB-2051-32 and USB-2068-18 USB I/O expansion modules bring a new low cost option to quickly and easily grow your system.

The new WISE-5231M-3GWA provides a cost effective and easy to use solution for remote automation control.
01.02.2017