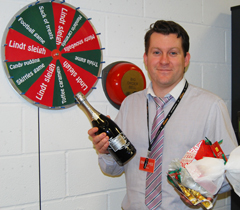 This Christmas Amplicon had a special Thanks Giving internal competition where all members of staff could take part!

Everyone received five "Thank You" tokens that they had a chance to give out to colleagues who helped them and made their day at the office better. The person granted with the most tokens by the end of December would win the competition.

The idea behind this initiative was to recognise the people that make our lives easier and more cheerful. The competition allowed us to say "Thank you!" to our colleagues. Sometimes we might take them for granted, but this month at Amplicon we became more aware of how wonderful it is to work among helpful and positive people who are considerate even in the most stressful days.

The winner of the competition is Gavin Chalkley. He received 17 tokens, the highest amount. We are incredibly grateful to have such an outstanding person in our team! He is always willing to help and always does do with a smile, which isn't an easy thing to do! The winner received a well deserved prize as well as the chance of spinning a wheel packed with Christmas treats.

Thank you everyone who participated and hopefully the competition will encourage us all to be kinder to each other!
22.12.2016