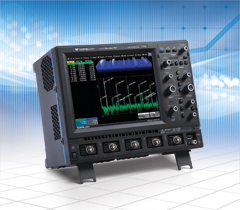 The
WaveSurfer 10
is the latest 1GHz oscilloscope from Teledyne LeCroy. With prices starting at £8640 the WaveSurfer offers many innovative features as standard; these include 10.4" MAUI touch screen interface, up to 10GS/s and 10Mpts memory depth, high performance hardware and a compact form factor.
The serial data and decode options of the WaveSurfer 10 provide time saving tools for serial bus debug and validation, such as powerful serial data triggers, intuitive colour-coded decode overlays, table summaries along with search and zoom.
The
WaveSurfer 10
has an optional advanced debug toolkit that adds many useful functions such as 13 additional math functions and16Mpts/ch memory further improving the performance in the testing and analysis area.
The
WaveSurfer 10
is a strong rival to other scopes in the same bandwidth class.
Note: All prices referred to in this press release are prices in October 2014. All prices are subject to change without prior notice.
11.11.2014