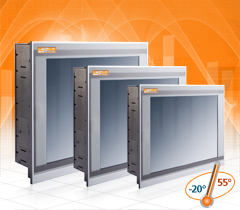 Amplicon has recently introduced a new series of wide operating temperature panel PCs. The new
Senses 5300 panel PCs
come with three display size options: 10", 12" & 15"; this allows the series to be versatile and adaptive for up to 99% of SCADA/HMI applications.
Rich in I/O, the Senses 5300 series offers dual Gigabit LAN, three DB9 COM ports (2 x RS232, 1 x RS232/422/485), multiple USB 2.0 ports and a single mPCIe expansion slot for adding Wi-Fi capability.
The Senses 5300 series offers space for a single 2.5" mechanical or solid-state drive with options for Compact Flash storage. This allows for optimal operating system and application performance.
Available with 10", 12" or 15" LCD display with 5-wire resistive touch screen, the Senses 5300 series can be supplied with optional mounting kits for panel, wall, or VESA mount depending on your preference and application requirement.
The Senses 5300 series offers support for Microsoft Windows and Linux based operating systems, allowing these units to be tailored to your application needs.
When using the Senses 5300 series with wide temperature RAM and storage media, the 5300 series will operate with a wide temperature range of -20°~55°C allowing for great versatility.
22.10.2014