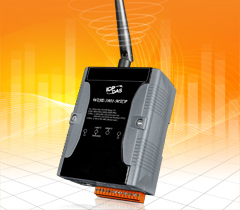 The
ICP DAS WISE-5800
is a user-defined Distributed Ethernet I/O Module designed for remote logic control and monitoring, offering a broad range of user-friendly features and a quick and easy setup.
The WISE-5800 Ethernet I/O module has a multitude of features, making it a versatile and user-friendly solution. Its main features include a built-in web server interface that allows users to implement IF-THEN-ELSE control logic operations in just a few simple clicks, completely eliminating the need for hours of programming and debugging, and particularly ideal for users who are not familiar with programming and coding.
It also provides data logging functionality and can be configured to read and take values from the I/O channel, on a triggered event or on a timed basis. The data collected from the unit can then be handled by microSD using the slot available or via email/FTP which can be setup through the web server interface.
The WISE-5800 Ethernet I/O module also boasts flexibility in the applications field being able to support XW-boards through the use of an I/O expansion bus that can implement D/I, D/O, A/D and D/A functions.
The WISE-5800 can be easily integrated and used with existing IAS devices and master/slave systems. This is due to Modbus RTU being an open RS-232/RS485 serial protocol, derived from the master/slave architecture, which is widely used in Industrial Automation Systems (IAS). The ease of integration can be further seen as it supports TCP/RTU protocols, making it compatible with SCADA systems.
17.10.2014