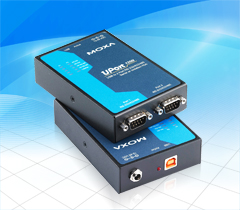 In the industrial sector laptop computers are used as a tool for accessing devices but these are no longer supplied with an RS-232 interface. As there are still a large number of serial devices being used in the industrial sector this can cause problems when trying to connect to legacy devices. The Moxa UPort 1250 and 1250I from Amplicon are the perfect solution.
The
Moxa UPort 1250 and 1250I converters
allow PCs to easily connect to an industrial bus over a USB port. There are three different interfaces for industrial serial communication, RS-232, RS-422 and RS-485. Most converters are only able to support one or two of these interfaces, forcing field engineers to keep several different converters in their toolkit.
With its compact size and flexible 3-in-1 RS-232/422/485 interface, the UPort 1250 provides engineers with a single solution that easily handles a variety of legacy serial devices. It is suitable for mobile, instrumentation and point-of-sale applications.
The UPort 1250I offers enhanced reliability with a rugged metal housing and 2 kV DC optical isolation protection. It is specifically designed for data acquisition equipment in harsh environments. Electrical spikes can potentially shut down an assembly line or an entire plant, so it is critical that they are properly managed. In worst case scenarios, equipment can suffer extensive damage. With isolation protection provided by the UPort 1250I, host computers are protected from potentially damaging electrical spikes.
With the UPort 1250 and 1250I, PCs can easily obtain a COM port to connect to serial devices. The process to verify the assigned com port number has also been simplified. Just hold the mouse pointer over the UPort icon in the Windows system tray to see the assigned COM port.
09.10.2014