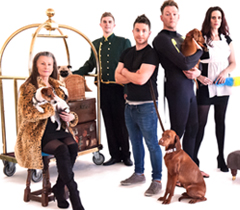 Brand new 10-part factual entertainment television series exploring canine capers at Brighton's first super-swish doggy hotel airs on Watch, Tuesdays at 8pm from 14th October 2014.
The Dog Hotel
is the brand new ten-part 'dog-u-soap' series following the daily dramas as doggy devotees Matt and Leon open a new Hollywood-style pooch paradise in the British seaside town of Brighton, airing on UKTV's entertainment channel, Watch, every Tuesday at 8pm from 14th October.
Britain is famously a nation of dog lovers, so married couple Matt and Leon plan to introduce some five-star doggy glamour. Are the larger-than-life locals ready for a luxury doggy hotel with gym, beauty parlour and boutique bedrooms? Mentored by tough-talking self-made millionaire Gina Citroni, the guys have ploughed their lifesavings into the business.
Fortunately, Gina is also a huge dog fan, once sending back a supercar because her pooch didn't like it! Every human emotion is seen through people's relationships with their much-loved pets. Voiced by the comedy talent behind Man vs. Food and Choccywoccydoodah, this show appeals to the worldwide appetite for dog-related programming.
Gina Citroni commented: 'The boys combine a top class dog centric business with dedication and humour; but trying to drive some business sense into their madness is a bit like herding cats…..extremely difficult but rewarding if you can get it to work!!'
To watch short YouTube video of the The Dog Hotel promotional video click here
29.09.2014