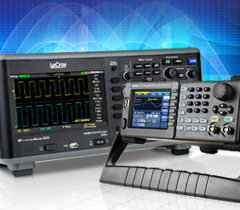 Teledyne LeCroy & Amplicon have designed an exciting bundle offer that is exclusive to Amplicon customers.
If you purchase the
Teledyne Lecroy WaveAce 2034
- 4 channel 300 MHz oscilloscope, you will receive a
Teledyne Lecroy WaveStation 2012
– 2 channel 10 MHz function generator completely free of charge. This represents a saving of £865! This offer is available until the end of 2014 and is completely exclusive to Amplicon customers.
A good oscilloscope should simplify how you work and shorten the time it takes to find and debug problems. The new WaveAce has a colour display, extensive measurement capabilities, advanced triggering and excellent connectivity - all features that greatly improve troubleshooting. The WaveAce has a bright 7" colour display, is available with 2 or 4 channels and has the option for choosing different bandwidths up to 300 MHz. They have 1 Mpts per channel memory for capture over long periods of time and show a large amount of detail, as well as having a sample rate of up to 2 GS/s.
The new and affordable WaveStation function / arbitrary waveform generators from Teledyne LeCroy offer 2 channels on all models, a large 3.5" display and models with bandwidths of up to 160 MHz. The high performance hardware enables these generators to create accurate and stable waveforms. A high sample rate and 14 bit resolution combined with low jitter and harmonic distortion means that waveforms seen on the WaveStation display are accurately created and output.
07.04.2014