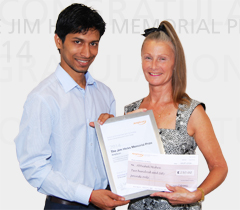 The Division of Engineering and Product Design, School of Environment & Technology at the University of Brighton held its annual prize giving event on 28th July 2014.
This year, the Amplicon Jim Hicks Memorial prize was presented by the Amplicon CEO, Gina Citroni, to Abhishek Mishra an outstanding student who has just graduated with a first class honours MEng (Hons) in Electrical and Electronics Engineering. The award was given for his project "Development of a LED message display board for a fan".
Abhishek designed, analysed and built a printed circuit board and integrated it with a fan. He mounted LEDs on the plastic blades of the fan and while spinning, they flash on and off in a pattern that displays as letters and numbers. The user is able to enter messages via a keyboard and the message is displayed on the fan blades as they spin. For this outstanding work Abhishek achieved the highest project mark in the MEng/BEng(Hons) Electrical and Electronic Engineering cohort.
Abhishek Mishra commented: "Hard work never goes completely unnoticed! There are companies like Amplicon that identify and reward engineering talent. Thank you Gina and Amplicon for the Award recognising the work I put into my project."
28.08.2014