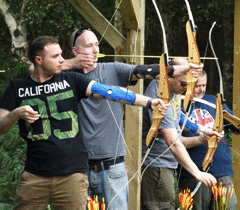 This year Amplicon celebrated its annual Founders Day event on Friday 8th August.
Following a successful 1950's theme party at the Bluebell Railway in 2013, this year the Amplicon Directors decided that the special occasion would be marked with a fun day full of outdoor activities for the team to enjoy.
The celebrations started with the Amplicon Oscars! These awards are given to the outstanding members of the team. A buffet lunch followed before a coach came to take everyone way to an afternoon packed with adventure at the Holmbush paintballing & activity centre. Team Amplicon could chose from different activities including archery, axe throwing, 4x4 driving, target shooting and paintballing. This was followed by an evening BBQ at a nearby pub.
The weather was kind and the day was a truly enjoyable experience for all, including the brave paintballers who are now fully recovered from the inescapable bruises!
05.09.2014